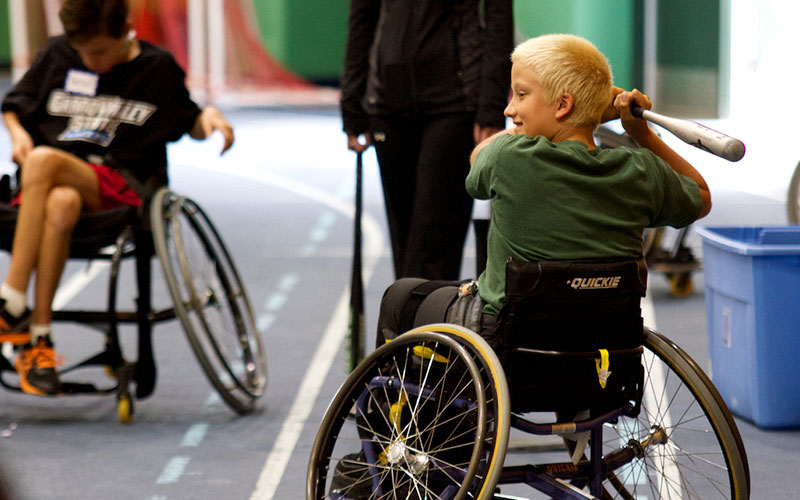 Mary Free Bed: Wheelchair and Adaptive Sports
Mary Free Bed Rehabilitation Hospital cares for children and adults who have experienced an injury or illness requiring physical rehabilitation, including brain injury, spinal cord injury, stroke or amputation.  The Mary Free Bed Wheelchair and Adaptive Sports Department began in 2012 for anyone age 3 or older who cannot participate in sports in the typical way.
Since then, the program has grown to the point that Mary Free Bed is now one of the largest providers of wheelchair and adaptive sports programming in the nation. From basketball to waterskiing, this department makes it possible for those with a disability, whether they were born with it or it was a result of an injury or illness, to focus on their abilities rather than their disability.
Breaking down barriers
Few people know adaptive activities and sports are possible, and even fewer have the money to pay for the specialized equipment. A basketball‐adapted wheelchair, for example, can cost $3,000 or more. There are also a variety of physical and mental problems for an athlete with a disability, including the struggles of weight gain, depression and a feeling of being excluded.
The Mary Free Bed Wheelchair & Adaptive Sports Department provide the programming, sporting opportunities and support to address the problems participants face. The department purchases specialized equipment and then loans it out to participants, so that athletes can try a sport without an overwhelming financial investment. The department also provides classes and clinics at a low cost.
The department has trained recreational therapists who organize and implement sport teams such as wheelchair basketball, wheelchair fencing, wheelchair softball, wheelchair tennis, sled hockey, wheelchair lacrosse, adaptive cheerleading, quad rugby and hand‐cycling. Additionally, the rehabilitation hospital supports nutrition and exercise training for athletes and covers travel expenses so that teams can compete, since there are often no other teams in Michigan.
The department also provides leisurely classes and clinics for people with physical and cognitive disabilities.
In total, Mary Free Bed Wheelchair and Adaptive Sports programs serve more than 700 participants and involve 400 community volunteers. Long term, the department hopes to reach even more participants of varying disability types and provide hope and freedom through sporting opportunities.